This is a page about performances involving walking. I am interested in the idea of a walk as a symbolic act, the physical process of mapping space and the intimacy of a walk which is shared. I see a performance walk as a sculptural activity, and have been exploring the relationship between mapping and drawing, documenting journeys through spaces and places.
Mapping the borders of a Turkish institution (2014)
Wearing traditional Kurdish şalwar and waistcoat I attempted to navigate the borders of the University of Batman, Batı Raman Campus. The majority of students and staff at the university are Kurdish, yet their language is officially not allowed to be spoken within the university grounds or within their written work. Hemmed between oil fields, and surrounded largely by a barbed wire fence in a surreal desert landscape, I simply walk in a circle. The security guards did not mind, and even invited me to share lunch with them. By walking, I am effectively drawing a map of the University's limits. Both in terms of its 'edge' but also its 'limitations'.
Beach walk/Street walk (2010)
A performance for Busan International Performance Art Festival, South Korea and Brighton Fringe Festival, UK. I lead a group of blindfolded people from point A to point B along the edge of a beach, navigating the way by the sound of the lapping waves, and through a bustling city street.
A walk through my grandmother's house (2013)
A performance installation for "Draw to perform" symposium at ]Performance S p a c e[ London. My grandmother has always been a kind of mysterious character to me, having never really known her well. She recently moved to a nursing home and had had to leave her house behind and most of her possessions, knowing that she would not be able to take them to the new place. I felt moved by this process of letting go of a lifetime worth of things, and the fact that she took with her only a handful of photographs. I wanted to mark this moment of transition and also to preserve something of it somehow. After she moved out, I went to her house to make a journey around it. I wanted to try to piece together fragmented memories of being there as a child and to look at the photographs that she left behind.
Visitors to the "Draw to perform" symposium were invited to phone me while I was making this journey around the house, to listen to me describing and telling stories about objects, letters and photographs that I found along the way. I asked the visitors to make a drawing of what I was describing, whist wearing a blindfold - thereby concentrating on the story rather than the picture. The resulting drawings became little fragments of the exploration, fragments of fragmented memories.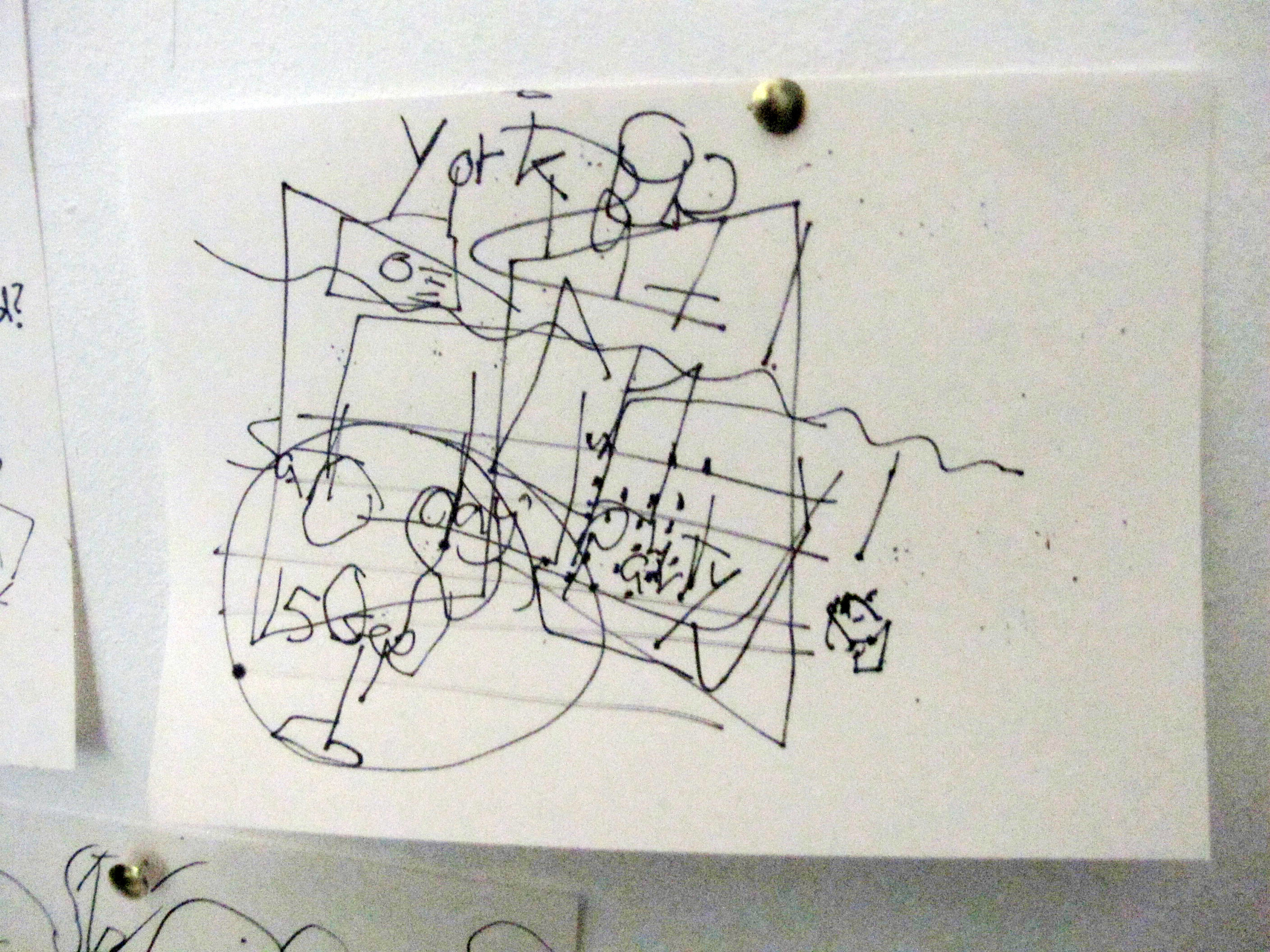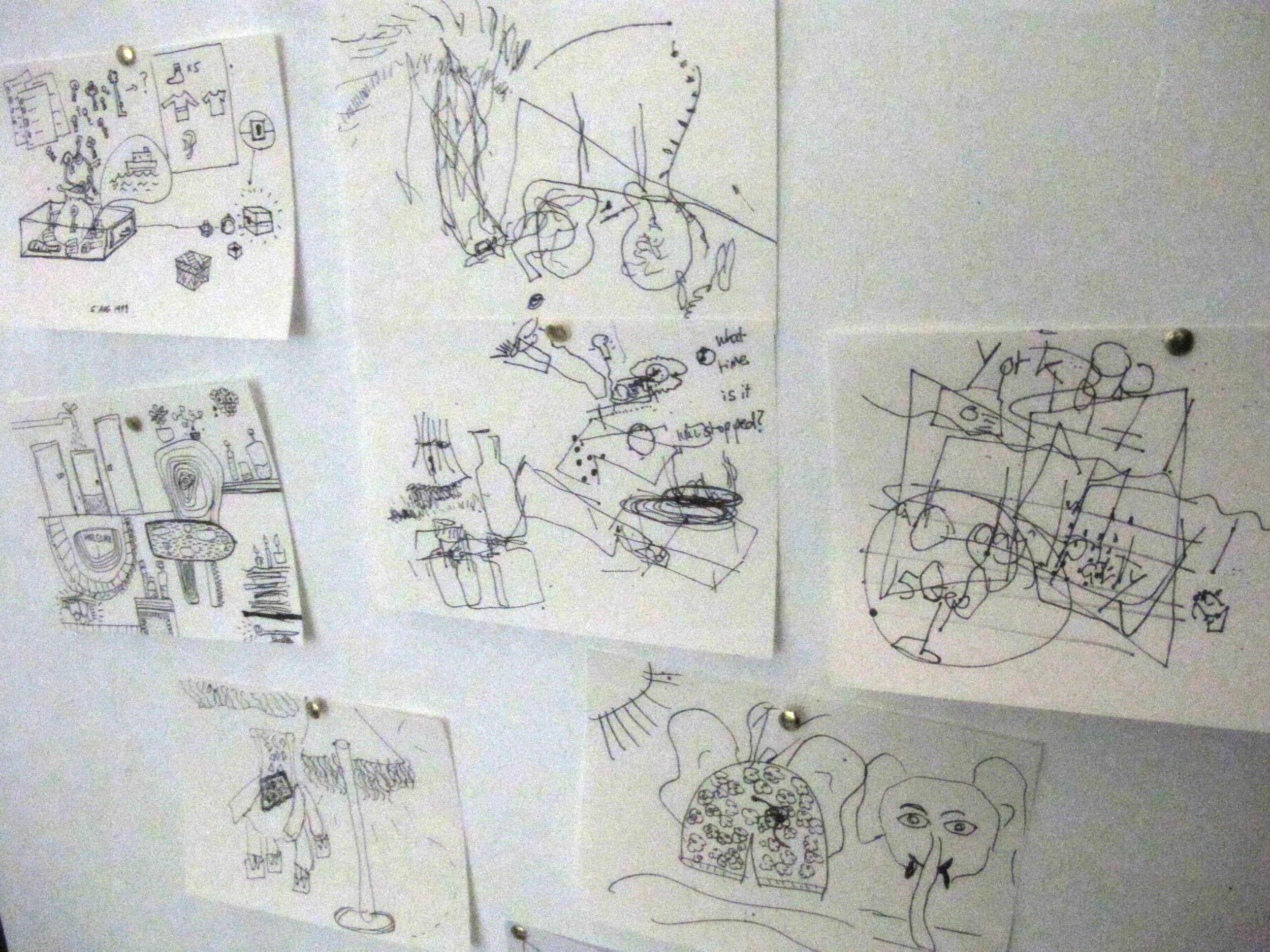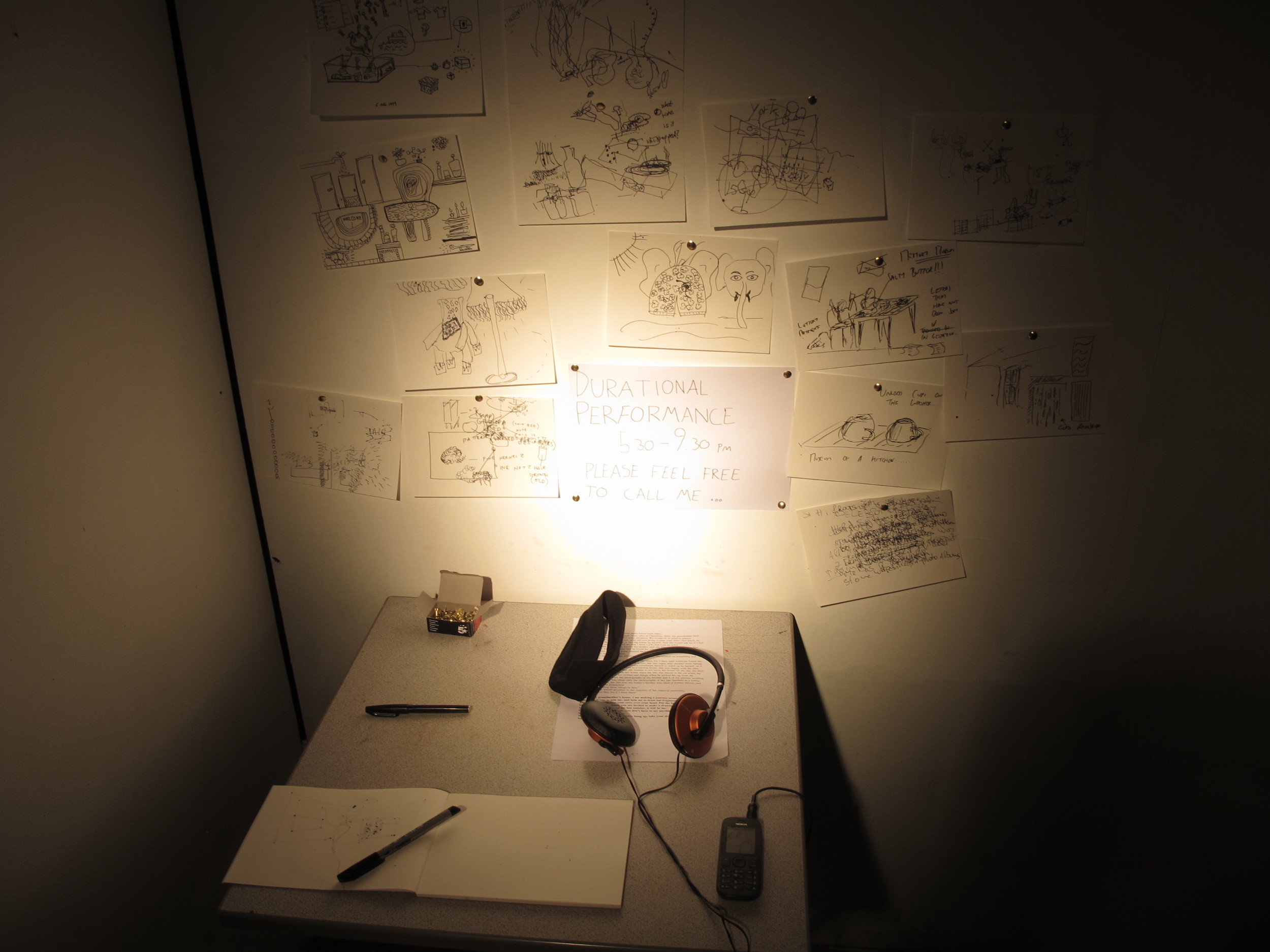 I'll see you when I get there (2012)
A performance event for "When land meets water" at Southampton Solent University, exploring the idea of using drawing as a way of recording experiences, translating words into images, and a journey into a map. Participants sat blindfolded around a large sheet of paper with their mobile phones out and a stick of graphite in hand. Each participant received a phone call from me as I walked from the port to the studio. I described my route and various objects, textures, and significant land marks along the way. They were instructed to repeat the descriptions that I spoke down the phone. Whilst blindfolded, the other participants were instructed to draw what was being described.